Mountain biking difficulty grades explained
There's nothing like the rush you get from tackling your first MTB trail. It's guaranteed to put a big smile on your face, plus you'll improve your fitness, stamina, and mental toughness at the same time. And did we mention that mountain biking is a great way to meet a diverse and exciting bunch of people? 
But before you get in touch with us to arrange mountain bike hire, it's worth taking the time to understand the MTB trail grading system. Whether you're first starting out or you feel pretty confident about hitting the trails, it's a good idea to tackle terrain that matches your ability level.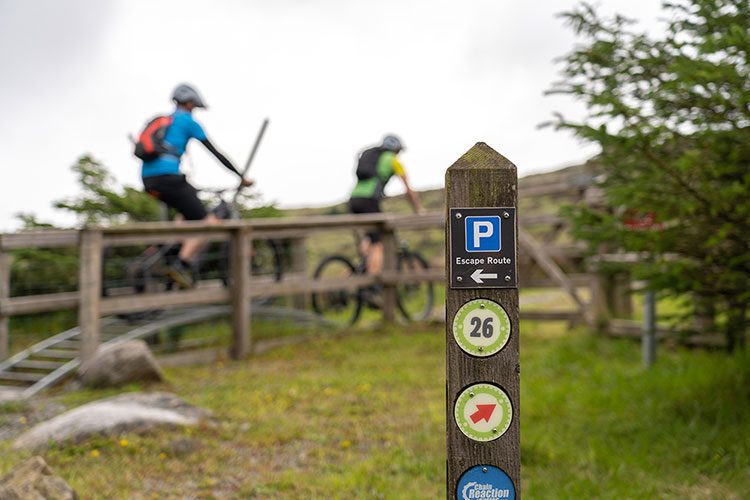 MTB difficulty grades explained
For difficulty grading on trails in the UK, British Cycling broadly follows the guidelines laid down by the International Mountain Biking Association (IMBA). 
This grading system ranks trails from easy to super hard using colour coding and symbols. So when you're searching for your next outdoor adventure, look out for these gradings:
Green trails
Designed for beginners, with flat and wide tracks. You won't find loose gravel or other testing terrain — just an enjoyable and easy ride. If you're going on a family day out, look out for the green trails, as they're suitable for all levels of fitness and ability.
Blue trails
You'll need some basic off-road riding skills to tackle the blue trails. Designed for intermediate riders with a good standard of fitness, these trails throw a few technical trail features (TTFs) into the mix. So look out for steep climbs, tricky descents and natural hazards like rocks and gravel. And be prepared to sweat!
Red trails
You'll need a specialist mountain bike and plenty of skill to tackle the red trails. You'll also need plenty of stamina and a high fitness level to tackle the challenging, steep singletrack sections and technical features. 
Be prepared to encounter plenty of drop-offs, large rocks, and boardwalks. Also, look out for the berms — these artificial banked corners are designed to improve riding flow but require some skill and practice to navigate.
Black trails
Graded severe, these expert trails are the most challenging around. So we suggest you get plenty of red trail riding under your belt before you start to tackle any black routes! 
You'll also need high levels of stamina, toughness and bike handling ability, plus the ability to sustain a high activity level. Packed with all the technical features you'll find on a red trail, but with more sustained difficulty, you'll need all your skill and technique to meet the challenge.
Orange bike parks
If you fancy taking your riding to the extremes, look out for orange-graded bike parks and trails. These are generally packed with manufactured challenges and aren't for the faint-hearted! 
Be prepared for 'big air' jumps and full-throttle downhills. Tackling orange trails is all about having the technical ability and fitness levels to get the most out of your day out.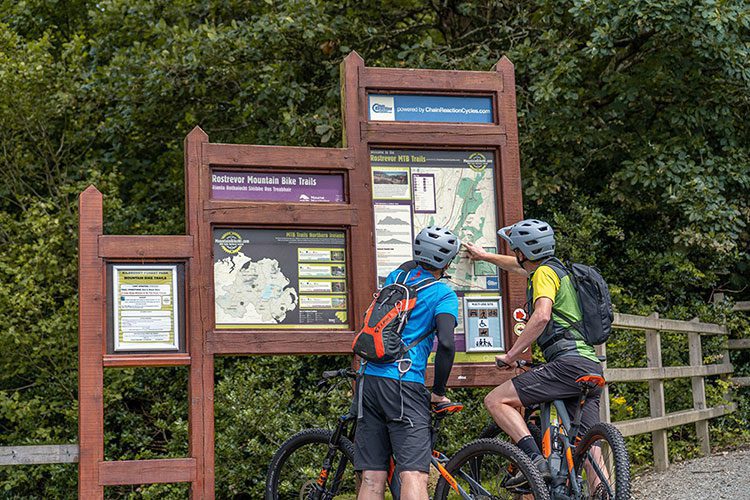 Find your trails
We've put together this basic guide to difficulty grading, but it's worth talking to friends and family about their experiences mountain biking in the area. 
You'll also find that some countries use different grading systems. For example, if you're riding in Europe, look out for the Single Track Scale (STS) that grades difficulty from 0 – 5, where 0 and 1 are easy, medium trails are graded 2, and 3-5 trails are difficult to super challenging!
Are you looking for a great day out for all the family on wide-open and easy-going trails? Or are you ready for a mountain biking adventure in the Kingdom of Mourne? Then Life Adventure has got you covered! For equipment hire and much, much more, contact us today.